Retreats for Men and Women in Ministry
Led by Bill & Kristi Gaultiere
Ministry wears us out. It's the same for those in full-time ministry and for tent makers like Paul. Whether it's the weight of leadership, the grind of preaching every week, spiritual dryness, church conflicts, or compassion fatigue, eventually we all feel it.
In our Soul Shepherding Institute we (Bill and Kristi Gaultiere) help you to unhook from the stress and noise of your ministry and life in order to be immersed for five days in God's beauty and grace in nature and a community of pastors and leaders. Have you ever "unplugged" that long? Come visit us in the Southern California sunshine! We'll show you how to make space to hear God's voice, be renewed spiritually, and engage in soul training activities that will transform your life and ministry.
Our Institute's Retreat and Training Program is for pastors, spiritual directors, ex-Pats, and all kinds of men and women in ministry. Soul Shepherding training is inspired by what we've learned from many years of being personally mentored by Dallas and Jane Willard and by Ray and Anne Ortlund, along with over 50,000 hours of experience as doctors in psychology and therapists.
Spiritual Hospitality and Home Cooking!
At a Soul Shepherding Institute Retreat you receive personalized care and teaching in authentic community. We limit each cohort to about 16 pastors, pastors' wives (or husbands), missionaries, counselors, spiritual directors, and other Christian leaders. All teaching, guided experiences, and spiritual direction are personally provided by us. (You can learn more about us here.)
Instead of merely teaching the content — as life changing as the ideas are! — we guide you into experiences with those ideas that facilitate greater intimacy with Jesus — not just on retreat, but every day.
Our retreats are especially helpful for ministry couples to experience together, but you can participate without your spouse or as a single person. (We can provide a discount if you bring your spouse or a friend and share a room.)
Spiritual Formation and Soul Care Training
for Men and Women in Ministry
Soul Shepherding's Institute is an 18-month program of experiential learning. Our participants are diverse in age and and ethnicity. We feature four retreats (five days each) with personalized spiritual mentoring and optional supplemental training to earn a certificate in the ministry of Spiritual Direction.
We assist the Lord Jesus in personally caring for and guiding you through extended blocks of "TLC Time" (solitude and silence with Jesus), interactive teaching, guided experiences, individual spiritual direction, and small group sharing/prayer.
You'll receive a 100-page packet of Institute readings and exercises prior to each retreat. The curriculum for the four retreats integrates Christ-centered spirituality and psychology to form a progression of learning and transformation for your life, relationships, ministry, and leadership:
Spiritual Formation: Living as an apprentice to Jesus in the Kingdom of the Heavens today and developing a personal rhythm of life and VIM Plan for transformation.
Spiritual and Psychological Development: Growing in spiritual and psychological stages of growth, including navigating Dark Nights of the Soul.
Soul Care Ministry: Understanding people, their problems, and how to assist Jesus in helping people through teaching, counseling, healing prayer, spiritual direction, discipleship and mentoring, and small groups.
Spiritual Leadership: Hearing God's voice and being led and empowered by the Holy Spirit in ministry (rather than typical cultural models of leadership), including implementing Christian spiritual formation and soul care into your ministry and leadership.
Renew Your Soul and Your Leadership!

At a Soul Shepherding Institute Retreat you will not experience the typical "conference overload".
Each day features very generous spaces of "TLC Time" for quiet reflection
in a beautiful nature setting, Scripture meditation, conversation with friends, or a nap!
The Soul Shepherding Institute is Fun!
At every Soul Shepherding Institute Retreat half of the participants are women in ministry
(pastors, pastors' wives, spiritual directors, counselors, missionaries, and other Christian leaders).
Spiritual Direction Certification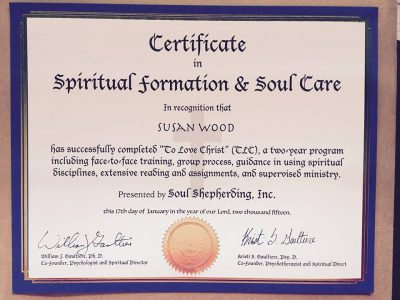 In December of 2017 Soul Shepherding, Inc. launched a new certificate program in "Spiritual Direction Ministry" that adds onto our Institute's four weeks of retreat and training in Southern California. (This refocuses and expands the previous "Spiritual Formation and Soul Care Ministry" certificate pictured above.) Many of the 65 pastors and leaders, men and women in ministry from around the world, who have participated in our Soul Shepherding training have used this for spiritual direction and soul care ministry so we decided to upgrade this program to meet the qualifications of the Evangelical Spiritual Directors Association. This program features monthly online groups with live video teaching, discussion, and supervision in Spiritual Direction. You'll be learning by experience and practicing the ministry of Spiritual Direction with feedback from a trained supervisor. This program is led by Bill & Kristi Gaultiere and some of their Associates.
Check out the details of Soul Shepherding's new program in Spiritual Direction Training and Certification.
Testimonies
Since we launched this training program in 2013 over 65 pastors and leaders have experienced renewal and growth through Soul Shepherding's Institute. People have come to us from all over the United States, Canada, Africa, Indonesia, Mexico, Columbia, China, and New Zealand. Some participants have used the mentoring from us to start their own soul care ministry to pastors and leaders. (Let us know if this interests you!)
"This is the most helpful leadership training program I've participated in and it's a bargain!"
Ron Thompson
Senior Pastor ~ Twin Cities Church ~ Lake Tahoe, CA
"I am so thankful to God for bringing you into my life. Your spiritual direction and retreats have changed every part of the way I live, think, love, and work. Bless you!"
Eileen Callahan
Psychotherapist & Facilitator for Cloud & Townsend Leadership Intensives ~  Newport Beach, CA
"I like the team teaching that Bill and Kristi do. It models shared leadership, male and female. It also opens up different pathways to apprehend the presence of Christ."
Rev. Dr. Jeff McCrory
Lead Pastor ~ Little Brown Urban Mission Hub ~ Long Beach, CA
Seminary Professor ~ Fuller Theological Seminary ~ Pasadena, CA
"Yippee! That's how my soul is responding to Jesus after Soul Shepherding's Institute. My heart says 'yes' to be being Jesus' affectionate apprentice. I feel known in my secret places and filled up with empathy. My wife and I have received spiritual fathering and mothering that we can pass along in our own ministry call."
Rev. Aaron and Laura Damiani
Church Plant Pastor ~ Immanuel Anglican Church ~ Chicago, IL
"Thank you Bill and Kristi! It's so obvious that this is your life and not just a program that you put on. Your love for the Lord, each other, and us has been a profound blessing."
Suzanne S.
Community Development Practioner ~ China
"The last thing I wanted was another ministry conference/training. My wife and I were enticed by Soul Shepherding for one reason: we saw in Bill and Kristi a vibrant, authentic, transcendent life with Jesus. Two years later we are walking with Jesus in a level of intimacy that has transformed our marriage, family, and ministry."
Steve & Cathi Phillips
Lead Pastor and Children's Pastor ~ Journey Christian Church ~ Irvine, CA
"My compassion tank was empty when I came to Soul Shepherding, but my experience of empathy has been so enriching and enlivening!"
Stu Krogman
Pastor of Hope Ministries ~ CrossRoads Church ~ Alberta, Canada
"TLC ("To Love Christ") has transformed my entire life! It is totally 'out of the box.'"
Susan Wood
Leader of 30 Bible Study Leaders ~ Community Bible Study ~ Seattle, WA
"Soul Shepherding brought my theology from my head to my heart… It has slowed down my hurried life and thoughts. Today I am a more loving, giving, kind, and patient person."
Mark Harvey
Business Owner and Missions Team Leader ~ Irvine, CA
"I couldn't keep going on the mission field. The teaching and vulnerable sharing helped me press in closer to Jesus. I am renewed!"
Linda Gawthorne
Ex-Pat ~ Wycliffe Bible Translators ~ Colombia
"If you're hungry for Jesus and want a community of like-minded Christ-followers to journey with you in spiritual transformation Soul Shepherding's Institute is specially designed for you. It will satisfy your soul!"
Mildred Gerner
Pastor's Wife and Spiritual Formation Teacher ~ King of King's Church ~ Omaha, NE
"I felt like a butterfly emerging from a cocoon… The learning practices helped me into a deeper walk with Christ and soul connections with others in their journey."
Patricia Niednagel
Ex-Pat ~ South America
Upcoming Institute Retreats for Pastors and Leaders
Five times per year Soul Shepherding offers 5-day retreats in sunny Southern California and each year we start a new Institute cohort of men and women in ministry. Each venue is beautiful, hospitable, spacious, and relaxing. We serve delicious and healthy home cooked meals and snacks (some not so healthy!). For upcoming dates check our calendar of Events.
Cost
TLC is $900 per person for each five-day retreat. This covers everything — lodging, food, materials, and personalized spiritual direction. $3,600 is the total cost for the four retreats over 18-months. (The Spiritual Direction certificate program is an extra $150 per month.) Payment reserves your space. Checks are made to "Soul Shepherding" in one lump sum or in four payments before each retreat. (If needed you can apply for a partial scholarship.)
Pleases mail a check or use our online Donate page. (We're sorry, but because of the small size of each retreat we are not able to offer refunds.)
Other Soul Shepherding Retreats for Pastors, Churches, and Christian Groups
For pastor couples Bill and Kristi Gaultiere team up to offer intensive counseling and/or private retreats. Often this is part of a pastor's Sabbatical. It may include being hosted in the home of one of our ministry partners in Orange County. The cost is $1,200 for a full day of care. (If needed you can apply for a partial scholarship.)
Periodically, we offer "Still Waters" day retreats and other events for pastors and ministry leaders. These are posted on our Events/Calendar.
We also customize Soul Shepherding retreats/trainings for church staff teams, elder boards, or other groups of ministry leaders.