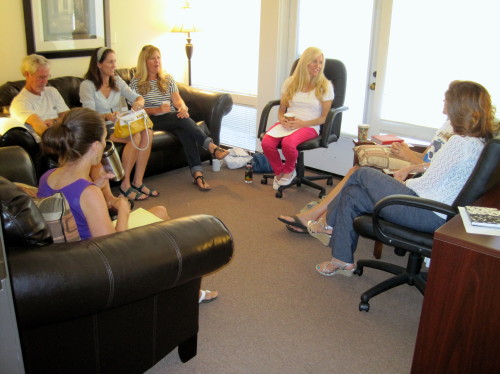 People often ask us, "What are the best Scripture passages to use for Lectio Divina?" Here are over fifty Bible passages that we've found especially helpful — with Lectio Divina Guides for each.
Our Lectio Divina Guides are free and they're easy to print out and use. They're great for small groups, church staff or elder meetings, retreats, or private devotions. Just scan our list of Bible passages below, praying for God to guide you to the one that will be most helpful for you or your group. (It's best to spend some time with the Bible passage by yourself before you minister it to others.)
For many centuries God has used the spiritual discipline of Lectio Divina to help people open their hearts to Christ and one another through the Word of God. Lectio Divina can help us grow in our discipleship to Jesus Christ.
What is Included in our Lectio Divina Guides?
All the Lectio Divina Guides below are one page PDF handouts that will guide you or your small group step-by-step in using Lectio Divina with a key Scripture passage. Each Guide has a title/theme for spiritual formation in Christ, a list of the four steps of Lectio Divina that we use, a very brief introduction to the Bible passage, an opening Abiding Prayer, the Bible passage, and a focus questions for each reading. (We're continually adding to this library. Also, we have other many other types of Bible-based spiritual formation guides for personal devotions and small groups under the tag "Experiences.")
Scripture Passages for Lectio Divina (Links go to Free PDF handouts)
Genesis 16:6-15: "At the Well of the Living One who Sees Me" (The Lord ministers to Hagar when she's crying.)
Exodus 3:1-4: "Turn Aside to See the Burning Bush" (Learn from Moses how to discern God's leading.) *
1 Samuel 30:1-6: "Help for Discouraged Leaders" (David finds strength in the Lord when his men turn on him at Ziklag.) *
2 Kings 6:8-17: "See the Lord's Chariots of Fire Protecting You" (Elisha prays for his servant's eyes to be opened to see the spiritual Kingdom of God.)
Psalm 1: "Two Ways of Living and Leading" (Going your own way vs. listening to God)
Psalm 3: "Praying Psalm 3: A Model Lament" (For a time of difficulty or conflict) *
Psalm 13: "Questions and Songs in the Dark Night" (Take heart from David in a Dark Night of the Soul trial.) *
Psalm 22: "Praying with Christ at the Cross" ("My God, my God, why have you forsaken me?… [God] has not despised or disdained the suffering of the afflicted one." This is good for Lent or those who feel abandoned.)
Psalm 46: "God is Our Refuge" ("Be still and know that I am God." In anxious times or any situation of need you can live in the spiritual reality of the city of God.)
Psalm 63: "Longing for God" ("O God… earnestly I seek you, my soul thirsts for you in a dry and weary land.")
Psalm 73: "Be the Strength of My Heart" ("God is the strength of my heart and my portion forever.")
Psalm 84: "One Day in God's Kingdom" ("Better is one day in your courts than thousands elsewhere.")
Isaiah 30:15-21: "Unhurried Grace" (You can learn not to hurry! "In repentance and rest is your salvation; In quietness and trust is your strength.")
Isaiah 43:14-19: "The Lord is Doing a New Thing!" (This is good at the beginning of a New Year or with a group that's needing a fresh start.)*
Isaiah 55:9-12: "The Word From the Heavens" (Listen. The word of God falls like sweet rain!)
Matthew 3:13-17 (and parallel passages in the other Gospels): "Baptized in Christ" (In Christ the heavens are opened to us as they were to Jesus at his baptism: "You are my beloved child and in you I am well pleased." And the Spirit remains on us!)
Matthew 8:5-13: "Just Say the Word" (Jesus heals the Roman soldier's servant in response to his great faith.)
Matthew 11:25-30: "Step into Jesus' Easy Yoke" (Learn to live and work in Jesus' unforced rhythms of grace. My favorite Lectio Divina!)
Matthew 17:1-13: "The Transfiguration of Jesus in a Small Group" (Teaches us how to be a spiritual formation group.)
Mark 1:21-39: "Jesus' Sabbath Day" (An example of how Jesus rests and works in an easy yoke)
Mark 4:26-29: "The Most Important Work Happens While You Sleep" (The parable of the growing seed is a surprise blessing!)
Mark 4:35-41: "Peace! Be still." (With Christ we can be at peace — even before he calms the storm with a word!)
Mark 5:24-34: "Touch Jesus and Be Healed" (Just a touch of faith heals bodies and souls.)
Mark 6:30-44: "The Interrupted Retreat" ("Come away" with Jesus… Share the Bread of Life.)
Mark 10:46-52: "What Do You Want Jesus to Do For You?" (Each of the apostles wants to be the greatest but blind Bartimaeus wants to see Jesus and the Lord heals him!)
Mark 16:1-8: "The Risen Christ Goes Ahead of You" (Be Spirit-led in life and leadership.)*
Luke 1:26-38: "Let it Be to Me According to Your Word" (Mary's great prayer of submission — especially good for Advent.)
Luke 4:38-46: "People Press in On Jesus — He Knows When to Say Yes and When to Say No" (For learning to set boundaries in love, as Jesus himself did.)
Luke 5:1-11: "Become Jesus' Disciple to Fish for Souls"
Luke 6:12-23: "Spiritual Leaders Listen to God" (Jesus spends the night in prayer and then chooses his Apostles.)
Luke 7:36-50: "Worship the Lord Jesus with Affectionate Gratitude" (The prostitute, not the religious leader, shows us what it looks like to worship the Lord.)
Luke 11:1-13: "Jesus Shows Us How to Pray" (We learn to pray by doing it with a master. The disciples admired how Jesus prays so he taught them the Lord's Prayer.)
John 1:43-51: "Living where Angels Ascend and Descend" (Jesus invites Nathaniel and Philip to, "Come and see" how he lives.)
John 3:1-15: "Coming to Life in the Kingdom of God" (Nicodemus, a great Bible teacher, needs to learn how to participate in God's Kingdom.)
John 3:22-4:3: "More of Jesus, Less of Me" ("Jesus must become greater; I must become less." Cultivate humility.)
John 4:27-36: "Jesus' Food" (Jesus thrives on spiritual food and teaches us to do the same.)
John 5:1-20: "Join the Father's Work" (Jesus heals the invalid at the Sheep Gate Pool.)
John 6:5-15: "A Little is a Lot When You Put it Into Jesus' Hands" (Jesus multiplies a little boy's lunch to feed over 5,000!)
John 10:3-14: "Listen to Good Shepherd's Voice" (Jesus is the Good Shepherd and his sheep listen to his voice, with the help of a faithful watchman.)
John 13:3-14: "Godly Leaders Wash Feet" (As Jesus serves us we are empowered to serve others.)
John 15:1-12: "Abide in Jesus" (Fruit grows naturally from your life when you abide in Jesus as he abides in the Father.)
Acts 7:54-60: "A Radiant Life and a Radiant Death" (Stephen overflows with God's grace and power in life and as he's stoned to death.)
Acts 16:22-34: "Your Best Ministry Opportunity is Your Response to Trials" (Paul and Silas sing hymns in jail and God transforms a city!)
Romans 12:1-2: "Discerning the Spirit's Wisdom to Lead a Meeting" (For leadership/ministry groups to practice submitting their meeting agenda to the Spirit of Christ and following his lead.)*
1 Corinthians 2:1-5: "Dynamic Leadership for Christ" (Modeled by the Apostle Paul.)*
1 Corinthians 13: "Love is Christ Shining Out of My Body" (We need to cultivate habits of love.)
2 Corinthians 12:7-12: "A Thorn in the Flesh as a Means of Grace" (Rely on the power of God's grace in your weakness or pain.)*
Ephesians 3:14-21: "Paul's Trinitarian Prayer for the Body of Christ"
Philippians 3:7-11: "Give Up All Things for Resurrection Life" (This is especially helpful during Lent. Here's a related discipline for Lent: "The Cross and Empty Tomb.")
Colossians 1:9-14: "A Worthy Life that Pleases God" (Take heart from Paul's prayer.)
Colossians 1:15-20; 2:3, 9: "Consult with Christ — He is Supreme!" (especially good for a leadership group)* OR "Rely on the Wonderful Counselor" (especially good for counselors and caregivers). (This is the best Christ-enthralling passage of the Bible!)*
Hebrews 11-12: "Join Abraham's Pilgrimage of Faith" (Genuine faith in God is more than right answers or a "leap in the dark" it's based on spiritual knowledge.)
1 Peter 5:1-12: "Spiritual Leaders are Humble" (Self-promoting and ambitious Peter became the humble, servant leader of the 1st Century. Here's his uncommon leadership advice.)
Revelation 3:14-22: "It's Jesus at the Door!" (Jesus says, "Behold I stand at the door and knock.")
* These Lectio Divina Guides use modified focus questions to help you apply the Bible passage.