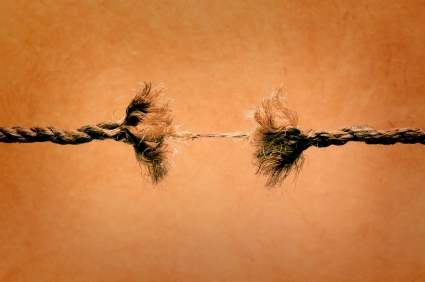 Pastors and other ministry leaders are often under so much stress they find themselves just hanging on by a thread, about to burnout.
Pastor stress is enormous. They care for the hurting, lift up the discouraged, and teach the seekers to follow Jesus. At every meeting people expect them to be "on" — ready to give leadership, a message, prayer, or a word of encouragement. They give their lives to invest in the spiritual lives of others.
Who Ministers to Pastors?
But who ministers to pastors? Who is caring for the pastor's heart and investing in his or her relationship with God? Who is helping them to remain fruitful for Christ and the people they minister to? Who cares for the pastor who cares for you?
Most pastors aren't sure who to confide in. Many feel alone and struggle with prayer.
Pastors, like anyone else — perhaps more so because of the nature of their work and the expectations people have for them — may become overstressed, depressed, or caught in a compulsive behavior. Or they may find themselves feeling spiritually dry, tired of ministry, angry at God, stuck in their spiritual life, or burned out.
Sometimes ministry leaders need psychotherapy or specialized soul care. Other times they need spiritual renewal or guidance. Always they need a safe soul friend to listen and provide encouragement and prayer.
And when a pastor or other leader is helped to grow into greater intimacy with Christ tremendous blessings overflow to his or her family and the many people that he or she has influence over.
This is why we started the ministry of Soul Shepherding as a 501c3 nonprofit organization in 2009.
Statistics on Pastor Stress
Statistics on pastor stress are alarming. (The same is true for other ministry leaders, including pastors' wives.) Surveys of pastors show their greatest need is not learning how to grow their church with new programs and techniques, but how to care for their own souls under God, which we call "Soul Shepherding."
Ministry Stress
90% of the pastors report working between 55 to 75 hours per week
90% feel they are inadequately trained to cope with the ministry demands
50% feel unable to meet the demands of the job
50% have considered leaving the ministry in the last 6 months
50% of the ministers starting out will not last 5 years
40% report serious conflict with a parishioner at least once a month
The profession of "Pastor" is near the bottom of a survey of the most-respected professions, just above "car salesman."
Emotional Health
70% say they have a lower self-image now than when they first started
70% do not have someone they consider a close friend
55% say they are discouraged
33% confess having been involved in inappropriate sexual behavior with someone in the church
The number one reason why pastors leave the ministry is burn out and number two is moral failure.
Family
80% believe pastoral ministry has negatively affected their families. Many pastor's children do not attend church now because of what the church has done to their parents
33% state that being in the ministry is an outright hazard to their family
94% of clergy families feel the pressures of the pastor's ministry
Statistics on Pastors' Prayer Lives
Unfortunately, the stress overload that many pastors experience does not seem to be driving them to their knees in prayer. Probably difficulty with prayer is a major contributor to the personal problems of these pastors.
Prayer
Only 16% of pastors are "very satisfied" with their prayer life (47% are "somewhat satisfied" and 37% of pastors are somewhat or very dissatisfied)
Pastors spend 39 minutes a day total in personal prayer, Bible reading, or devotions
80% of pastors spend less than 15 minutes a day in prayer
95% of pastors do not pray regularly with their spouse
Younger pastors are far less satisfied and devote far less time to prayer than those who are older
Only half of pastors meet regularly with a prayer partner
(Ministry stress statistics are compiled from surveys of pastors done by HB London, Jr., The Fuller Institute, George Barna, Pastoral Care Inc, LifeWay Research. Statistics on pastors and prayer are from Focus on the Family, LifeWay Research, and Peter Wagner.)
Similar statistics have been reported from studies of pastors' wives, which we summarize in our article, "Unfair Expectations on the Pastor's Wife."
Soul Shepherding for Pastors
"Ministry Begins with Rest" is a short article to encourage you as a leader to get the rest you need.
I compiled a number of key Scriptures to write "A Prayer of Affirmation for Pastors" to help pastors and leaders like myself cultivate the reliance on God that empowers ministry.