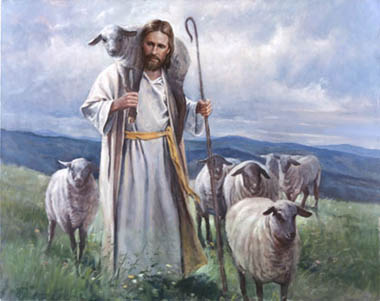 A friend of mine was quite late for his appointment with me. He finally arrived breathless as he explained to me that 24 hours in a day just wasn't enough!
He was trying so hard to be a good pastor but he just couldn't accomplish all that his church required of him. Trying to meet the expectations of the people in his church left him exhausted. Even worse was knowing that his wife and kids needed more of his time and energy. But he turned aside from his guilt by joking, "And Jesus said his yoke was easy!"
Many people I talk to think that serving the Lord in ministry is hard. (Maybe you can relate? Years ago I used to feel that way.)
Whose Yoke?
After listening to my friend let out more of his steam, I suggested with a hint of a smile, "I wonder who gave you so much to do?" (Implication: "Maybe it's your yoke that's burdening you and not Jesus'?")
The Lord Jesus doesn't give us too much to do. He doesn't ask us to run ourselves ragged as we serve him. He doesn't expect us to make everybody happy. We put these pressures on ourselves!
Jesus' Secret
How did Jesus remain so at ease? When people were constantly clamoring for him and pulling on him? In life threatening storms? When he had only three years to prove to the world that he was the Son of God and the Messiah? When suffering so horribly under the weight of the cross? What was his secret?
Jesus lived in the same "easy yoke" and "light burden" that he offers us. Matthew 11:25-30 is an example. In the midst of a difficult ministry situation we read, "Abruptly Jesus broke into prayer" (verse 25, MSG). Then the Father helped him to set aside his denouncing of the cities that rejected God and instead to speak "tenderly" to the people, inviting them to join his intimacy with the Father and experience the ease and lightness of his "rhythms of grace" (verse 28, MSG).
Dallas Willard explains Jesus' easy yoke in The Spirit of the Disciplines:
We cannot behave "on the spot" as Jesus did and taught if in the rest of our time we live as everybody else does…
The secret of the easy yoke, then, is to learn from Christ how to live our total lives, how to invest all our time and our energies of mind and body as he did. We must learn how to follow his preparations, the disciplines for life in God's rule that enabled him to receive his Father's constant and effective support while doing his will (p. 7, 9).
First Things First
Jesus Set Boundaries — he didn't let his ministry overwhelm him. He expected people to be responsible for themselves and to have faith. He respected the limitations of living in a human body. He got enough sleep. He kept the Sabbath. He spent lots of time in solitude and silence. He knew how to have fun with friends!
Jesus put his first priority on his intimacy with the Father and learning from him. This was the source of his love, joy, and power that he ministered to others. To step into Jesus' easy yoke is to learn to live and love in his rhythms of grace.
In my book You Can Live in Jesus' Easy Yoke I show you how to de-stress. It's also a great resource for small groups.